FINALLY I HAD MY VACATION! :D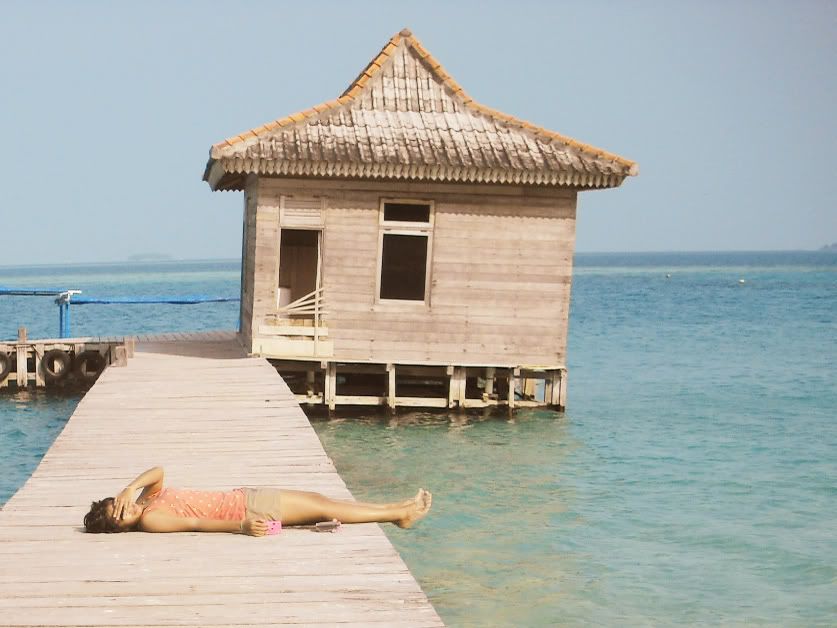 If you followed my tweets, you must known that 2 days ago I went to Pulau Seribu with Rudy and some uni friends. It was a very short vacay (2 days, 1 night) but I enjoy it much! Because I've been wanting to go to a beach so bad. We went there in backpacker way, left home at 5am and took a cab to Muara Angke (this took around 100k by Blue Bird). Then we took a boat, its a big and traditional boat (no air conditioner, no seats number, just throw your self in the deck and sleep :p). It cost me 30k and took 2 hours to Pulau Pramuka. I tell you guys to get your seat at the top of the boat, not in the deck.
At around 9 am, we arrived at Pulau Pramuka and rent a hostel, 300k per night (2 king size beds, 2 bath rooms, 1 tv, 1 water dispenser, 1 fan and 1 air conditioner). It was pretty nice, only 2 minutes to the beach. We had a rest for a while and left to Pulau Semak Daun and Pulau Air at around 1 pm. We learnt how to do snorkeling at Pulau Semak Daun (we rent the snorkeling equipment for 30k). Pulau Semak Daun is a small island with no house, only trees and the beach, but you can build a tend there. After a while, we sailed to a deeper sea, put our snorkeling stuffs and jump to the deep blue sea. It was my first snorkeling experience and I love it soooooooo much! The corals, the fish, the clear and salty water, the sun, everything. We spent the day by snorkeling around the sub coral area and end the day by watching sunset at Pulau Air. Pulau Air is an artificial island, the real island is only 5 hectares and got widen by the gov. I don't know exactly how big Pulau Air is and why they widen the island. But if you come to Pulau Air, aahh *exhale*.. Its just so beautiful. There's an area that surrounded by 3 artificial islands, the water is warm and crystal clear. You can swim from island to island, play with the soft sands and enjoy the sunset. It was really beautiful.
After that, we got back to Pulau Pramuka where we stayed for a night. In the morning, we sailed back to another sub coral area to snorkel again. This time, the biota were more various, more colorful and (for me) a bit thrilling. The corals were so close with my feet, even thou I wore a snorkel fit but I was really scared that my feet would accidentally touch the sea urchin, because the sea urchin was THAT much. But thank God nothing happened except my arms got jelly fish stings, but that's okay. We didn't spent much time because we need to buy our seats to get back home. Fortunately we still got Lumba-Lumba boat seats, a pretty good big boat, with air conditioner, tv, VIP class and ofcourse limited seats. It was 32k to Marina Ancol and took 3.5 hours. Hmm.. That's all from me now. Even thou it was a very short trip but I'm really happy for it. Psstt.. My skin is soooo
dark
tanned right now! :O
Ps: More picts to come up!